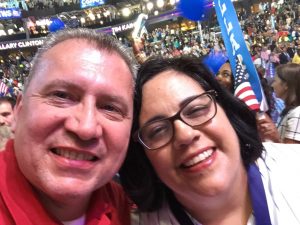 Michael Noland is a progressive democrat, who was elected and then re-elected twice to the Illinois Senate from a traditionally republican district. His general politics, nonetheless, reflect progressive positions on the issues.  Noland and his wife, Veronica, were proud Bernie Sanders delegates to the Democratic National Convention in 2016.
Noland was never afraid to take positions that conflict with party leadership when he felt it was in the best interests of the people in his district. He twice stood against party leadership on unconstitutional pension reform, several times on unbalanced budgets and continued state borrowing. In 2014 he was elected State Central Committeeman for Illinois' 8th Congressional District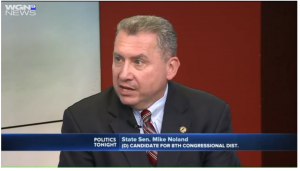 , a post in which he currently serves.
Although he ran unsuccessfully for congress in 2016, he remains active in local party politics supporting up and coming progressive Democrat candidates for office.  Click here to see a list of Causes and Candidates Noland currently supports.
Noland's belief about the important role of government stems from his own personal story and the stories of countless other middle class Americans he has met while campaigning for and serving in office. He lives in a modest home in Elgin with his wife and two children. His belief in the value of hard work was instilled in him at an early age.
Noland believes that government should be working for the betterment of average Americans and not for further enrichment of the powerful. Therefore, a primary goal of his public service was to campaign finance reform and to limit the ability of moneyed interests and corporations to unduly influence the political process. He continues to seek reversal of Citizens United by assisting in passing a national constitutional amendment to do so and to term limit leaders in the Illinois General Assembly.
In addition to campaign finance reform, Noland fought for transportation solutions in the northwest suburbs to relieve congestion, decrease pollution and improve the general quality of life.  Specifically, Noland envisions replacing the CTA Blue Line with light-rail connecting O'Hare International Airport to nearby suburbs extending out to Rockford, Illinois.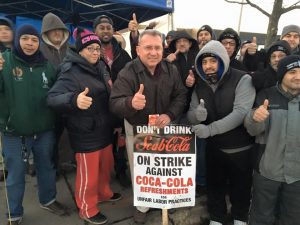 Noland also believes in greater federal investment in education. Specifically he supports a financial transactions tax the revenue from which would be dedicated to a free K through 16 public education system in the United States. He also believes the U.S. needs to expand early childhood education, greater nutrition programs and enhanced social services for developmentally disabled and extraordinarily challenged students. He supports a living wage in Illinois and the United States.
Noland has long accepted the prevailing scientific research suggesting that human activity is driving dangerous climate change. As such, Noland believes that the federal government must play an increasingly active role in preventing catastrophic environmental damage.
Finally, Noland is pro-choice, having supported civil unions and marriage equality in Illinois. He supports sensible laws to reduce gun violence and believes in the goal of universal healthcare for all Americans.
---
164 Division St., Ste. 103, Elgin, Illinois 60120
E-mail: info@noland.org (847) 571-3935, c, (847) 628-0638, F